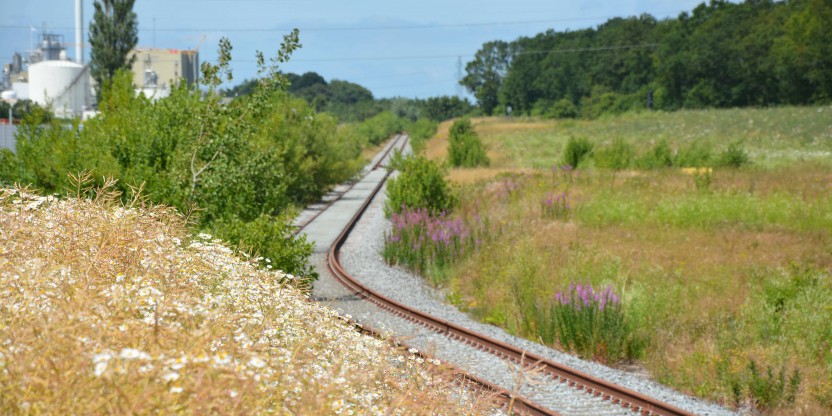 Port of Køge and Skandinavisk Transport Center are both owned by the municipality of Køge and is run by like a single company with the same leadership and operation. This type of organization underlines the intentions of having a united logistics cluster in Køge. With a location directly connected to a cross-road of the highways E20, E47 and E55, railroads and "the blue highway", STC and Port of Køge is a central transport- and logistics hub for Copenhagen and the surrounding areas – in fact all of Zealand.
Distance to Port of Køge

---
Important conditions
One of Denmark's largest

Skandinavisk Transport Center is the biggest unified business- and transport center in Denmark (measuring 180ha).

Three highways

STC is directly connected to one of "Denmarks biggest intersection", where three highways are crossing each other; E20, E47 and E55. On a daily basis more than 100.000 vehicles are passing by. The expansion of the "Køge Bugt" highway from 6 to 8 tracks will be completed in 2016.

Europe

STC is connected to the main european road network.

Consumers

STC is located optimally to the approx. 1.5 million consumers in the area of the Copenhagen capital and the 3 million consumers in The Copenhagen Sound Region/Sweden.

Access conditions

The conditions for approach are ideal and with 3 highways, railroad and Port of Køge the logistics are optimal. We are currently building a new approach road called "31B" and there will be a direct access road to the transport center by ramp "32".

Port of Køge

Port of Køge is just 3 kilometers away and is currently being greatly expanded.

Facilities

STC is a transport center – and not a industrial area. This means that you'll find the necessary service facilities, which is needed to support the industry. There are fuelling stations, cafeteria, different service and repair possibilities and washing facilities.

Work force

There is a big work force reserve passing Køge towards Copenhagen every day.
---
Developments in Køge
Skandinavisk Transport Center is located within a city that's developing massively and positively on all fronts. On the business/industrial aspect Køge is experiencing a growth within service, trade, transport and logistics. New companies are developing – and a positive picture of the future in Køge is taking shape.
The 9 big development projects
The massive expansion – exemplified in 9 big development projects – in the Køge municipality, will change the city now and in the future.
In concrete terms we are talking about a new regional university hospital, which will bring in approximately 3000 new workplaces, a massive city development of the old south pier/harbor area and in the north of Køge a new "city of education"called Campus Køge will be developed. In addition the new railroad "Copenhagen-Ringsted" with a station in the north of Køge together will the expansion of the Køge Bugt highway, will underline the status of Køge as an important national place of transport.
Read the publication: Development – Growth – Køge.
Port of Køge – The gateway to the Baltic countries
Port of Køge is also being heavily expanded now and in the coming years together with Køge Earthdepot is receiving earth for the development project. The harbor expansion includes an area of 40 ha, new wharfs and a unitterminal measuring 25 ha, which will drastically improve the capacity of Port of Køge and give way to better trading routes towards the countries along the Baltic sea.
Skandinavisk Transport Center is developed on the same terms as Port of Køge and those development projects, which in the following years will support the ever growing transport and logistics cluster of Køge. The large expansions on the harbor with the new harbor facilities carry along an infinite range of possibilities for the companies in Køge and surrounding cities.
All expansions of Port of Køge are expected to be completed in 2022. The project is managed as a partnering project between Danish entrepreneur company Aarsleff A/S and Grontmij who functions as advisers.
Nordhavnsvej 36 – 40
T: +45 70 21 21 01